Probable Cause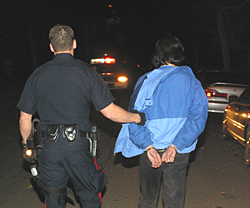 The Fourth Amendment of the U.S. Constitution states:

The right of the people to be secure in their persons, houses, papers, and effects, against unreasonable searches and seizures, shall not be violated, and no Warrants shall issue, but upon probable cause, supported by Oath or affirmation, and particularly describing the place to be searched, and the persons or things to be seized.

What is probable cause? Probable cause is defined as a reasonable belief that an individual has, is, or will commit a crime. This belief must be based on facts, not a hunch or suspicion. To determine if there was probable cause, the court must find that a person with reasonable intelligence would believe that a crime was being committed under the same circumstances. Probable cause requires stronger evidence than reasonable suspicion.

In order to obtain a search or arrest warrant, a law enforcement agent must prove probable cause to a judge or magistrate. If a search or arrest is made without a warrant, the officer must prove that there was probable cause. Any evidence obtained without probable cause may be suppressed in court.

There are four categories into which evidence may fall in establishing probable cause. These include observational, circumstantial, expertise, and information:
Observational evidence

is based on what the officer sees, smells, or hears. If an officer observes a suspicious person looking into car windows and carrying a baseball bat late at night, it would fall into this category.



Circumstantial evidence

is an accumulation of facts that, when looked at together implies, that a crime has been committed. This is not direct evidence.



An officer may use his or her expertise

in order to gather evidence. An example of this is an officer who can read gang graffiti to conclude that a criminal activity has occurred.



Evidence may also be obtained through information

, such as hearing a call on a police radio or receiving information from a confidential informant.
There are some forms of evidence that must be supplemented by other types of evidence. An example of that is circumstantial evidence. However, some sources of evidence are strong enough on their own.
Copying, reproduction, or duplication of the content, web design, or look and feel is strictly prohibited.
SearchandSeizure.Org HAS SUPPLIED THE INFORMATION ON THIS WEBSITE FOR INFORMATIONAL PURPOSES ONLY. THE INFORMATION ON THIS WEBSITE MAY NOT BE 100% ACCURATE AND SHOULD NOT BE INTENDED AS LEGAL ADVICE. THE USE OF THIS WEBSITE DOES NOT CREATE A LAWYER-CLIENT RELATIONSHIP.HIRING AN ATTORNEY IS A VERY IMPORTANT DECISION. BEFORE HIRING AN ATTORNEY IT IS IMPORTANT TO ASK FOR WRITTEN AND VERIFIED INFORMATION ABOUT THE ATTORNEYS QUALIFICATIONS AND EXPERIENCE.