Warrantless Searches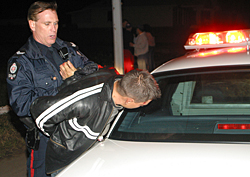 A warrantless search is a search and seizure of a person and/or property without a search warrant.
The Fourth Amendment of the United States Constitution, which is designed to protect privacy and prevent unreasonable search and seizure, restricts warrantless searches. The Amendment also states that in order to obtain a search warrant there must be probable cause as well as a description of the item being searched for and the people or property that may be seized.
The history of warrantless searches in the U.S. began when there were only Thirteen Colonies. During this time, officials of the British Empire could search colonists homes and businesses without a warrant. Since this was viewed as an abuse of power, the U.S. government created the Fourth Amendment to ban all warrantless searches.
The Fourth Amendment has been subject to interpretations and limitations by the executive and judicial branches. Some interpret that warrantless searches may in fact be performed under certain circumstances, such as during wartime or under martial law.
There have been several periods in the United States history when the government used surveillance to monitor Americans. One example of this is SHAMROCK. During this operation, which ran from 1945 to 1975, the NSA and the CIA intercepted international cable traffic without a warrant.
In 1975, U.S. Senator Frank Church chaired a Senate select committee that investigated the federal government's use of warrantless surveillance as a part of their Cold War intelligence gathering. The committee found that innocent Americans had been targeted by government agencies and wiretaps and bugs had been used in their homes. Because the surveillance was so intrusive, the government was able to gather great amounts of information that was unrelated to any valid government interest.
In 1976, President Gerald Ford decided to create surveillance legislation. This led to the Foreign Surveillance Act in 1978.
In more recent years, warrantless surveillance has been used to monitor international telephone calls. There are many politicians and legal experts who say that this practice violates the Foreign Intelligence Surveillance Act. However, there are other legal experts who argue that this FISA only applied to domestic calls and not international phone calls. The NSA has stated that they still obtain search warrants in order to monitor domestic phone calls.