Reasonable Suspicion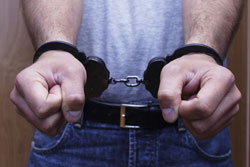 Reasonable suspicion is a term used to describe if a person has been or will be involved in a crime based on specific facts and circumstances.
It may be used to justify an investigatory stop. Reasonable suspicion is more than a hunch that a crime has committed but does not require as much evidence as probable cause, which is needed to obtain search and arrest warrants.
To evaluate reasonable suspicion, the court must decide if a reasonable person or reasonable officer would also infer that a person is involved in a crime were the circumstances the same.
The Supreme Court ruled in Terry V. Ohio that
an individual may be stopped and frisked by law enforcement
agents based on reasonable suspicion. The court found that this type of detainment (referred to as a Terry Stop) does not violate the Fourth Amendment, which restricts unreasonable search and seizure.
Due to a ruling in Hiibel v. Sixth Judicial District Court of Nevada, states may require an individual to give his or her name during a stop. However, the person is not required to answer any questions during a Terry stop.
A person may not be arrested based on reasonable suspicion - an arrest is made based on probable cause. However, if probable cause develops during an investigatory stop, the officer may arrest the suspect.
When would an investigatory stop for reasonable suspicion be appropriate? If a person was carrying around items that would be useful in committing a crime, the officer has reasonable suspicion to stop him or her. For example, a person carrying a wire hanger and looking into parked vehicles late at night may be seen as someone who is about to commit a crime. If an individual matches the description of a suspect, that may also be used a basis for reasonable suspicion.
Reasonable suspicion does not apply if a person simply refuses to answer questions or is of a certain ethnicity or race.
If a person is suspected of committing a violent crime, such as robbery or murder, the police officer may frisk the suspect's clothing to check for weapons.
However, if a person is suspected of having drugs or other contraband, the officer may not frisk him or her.